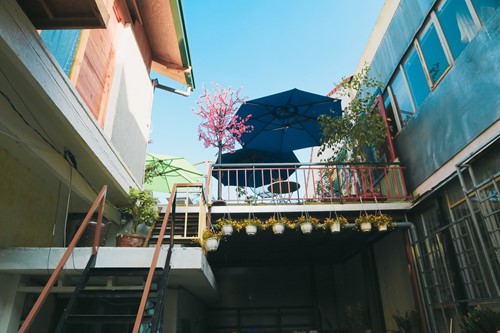 Small outdoor living spaces can present a challenge when it comes to design and decor. With so little square footage, how can you make your tiny yard stylish and functional?
Luckily, there are plenty of decorating solutions for even the tiniest of outdoor spaces. To help inspire you, here are some of the best tips and tricks for decorating your small outdoor living space:
Create a DIY spa retreat
Just because you have a small space doesn't mean you can't have the at-home spa of your dreams. One clever trick for including a spa or hot tub in your design without taking up precious space is to add an inflatable spa to a raised deck.
You can do the same with an above ground pool by creating a space for it to fit right into the deck floor. This way, you'll create your own slice of luxury without adding clutter to your aesthetic.
Hang a hammock
Hammocks are a comfy, breezy way to relax and get some fresh air. What's even better is they fit perfectly in a small space. As long as you have two posts, trees or a perpendicular patio wall, you can add a hammock for simple relaxation and an efficient use of your limited space. But make sure your supports can hold your weight without damage.
Don't forget to add plenty of cozy outdoor pillows and a throw blanket to your hammock setup for the perfect reading or napping spot. Using easy-care, durable fabrics will help you keep your small outdoor space in good condition throughout the seasons.
Add the perfect outdoor rug
The right area rug can transform any space in minutes, and your small deck or patio is no exception. Incorporate a durable but stylish outdoor rug into your decor to ground the space and add an extra touch of comfort.
You can keep it sleek and simple with a solid color, or add a boho chic aesthetic with eclectic colors and patterns. Not only will an area rug give your outdoor space serious style points, it might inspire you further in your outdoor decorating.
Working with a small backyard or small patio might seem difficult, but these ideas can help you find your inspiration. Whether you want to entertain guests or lounge in the sun, keep these tips in mind for your next outdoor decor project.